CHA Basketball Coach, Tim Wilson, Steps Down
June 01, 2022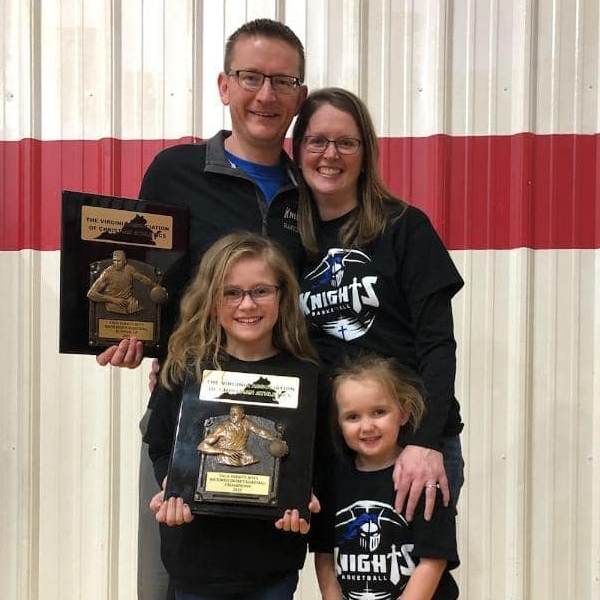 Head Basketball Coach Stepping Down at CHA
Rocky Mount, VA – June 1
Christian Heritage Academy basketball coach Tim Wilson is stepping down after 5 years as Knights head coach, citing a desire to spend more time with family and be more involved in his own children's activities.
"Everything has a time and a season. As much joy as the game of basketball brings, it fails in comparison to that of being a husband and a father. The Lord has blessed me with a beautiful, little family that I am beyond grateful for. I've come to learn that time in this life is invaluable and irreplaceable. It is for this reason that I will be making a transition within the program, so that more of my time can be given to those who've sacrificed so much to support me in this endeavor. … I will continue to serve where the Lord has called me to serve, but it may look a little different moving forward."
Coach Wilson, reassured his returning players and the CHA athletic community that he would like to remain involved with CHA basketball. "As I transition to a new role within the basketball program, I'm very excited to see how God will continue to use this platform, His children, and this game for His honor and glory. See you on the court! Go KNIGHTS!"
"We are saddened to see Coach Wilson step aside as our Head basketball coach, the hours and energy he brought to the program cannot be replaced. However, we are excited to watch his daughters enter our athletic program and see his involvement with them as they become Knight athletes," comments Nancy Castillo, Assoc. Director of Athletics. "Not only did Coach Wilson bring knowledge and enthusiasm for the game of basketball, Coach Wilson's Godly influence and walk with the Lord have had a strong impact on countless young men"
Tim and wife, Brittany, and their two daughters live in Boones Mill and will be returning as a CHA family for the upcoming school year.
The search for a new head basketball coach will begin immediately. The athletic department hopes to have the new head coach in place by July 1st. Contact Nancy Castillo, ncastillo@chaknights.org, if interested.