Our Admissions Process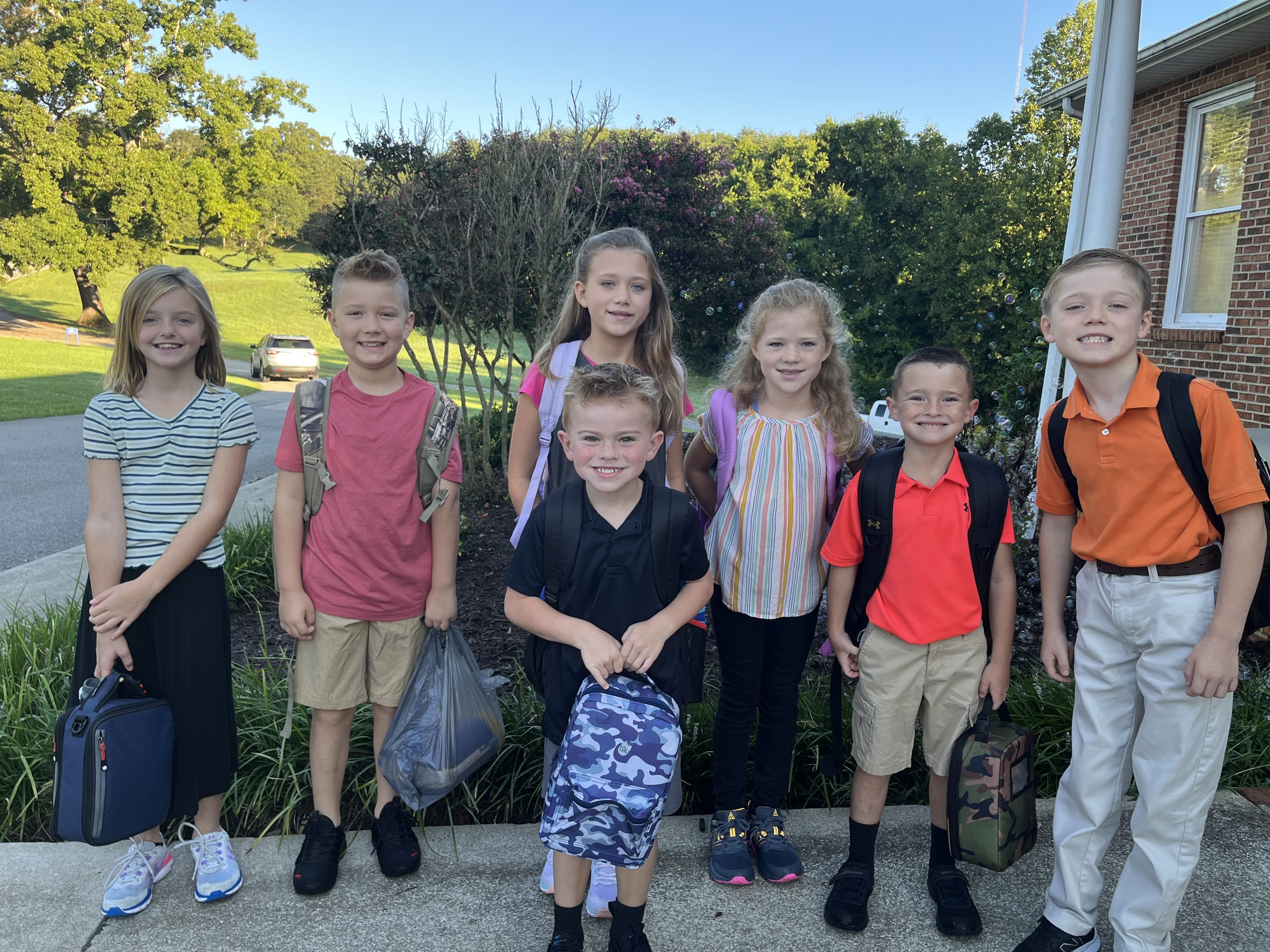 Our admissions process is designed to give your family full access and the opportunity to learn about our program and experience the Christ-centered spirit of our school community while also allowing our team the blessing of getting to know you.
CHA is currently accepting applications for the 23-24 school year!
We currently have positions open in the following grades: K3, K4, 3rd, 4th, 6th, 10th, 11th, 12th
Schedule a tour today!
Step 1: Discover CHA
The admissions process begins by gathering information about our school so you can thoroughly review all that we have to offer your family. We encourage you to download our Parent Guide to aid in your research. Our Family Handbook will provide valuable information about our Statement of Faith, our standards of behavior and academics, and school policies and procedures. In addition, our social media sites, Facebook and Instagram are a great way to get a glimpse of school life.
Step 2: Campus Visit
We invite you to continue your evaluation by scheduling a campus visit at one of our school locations. Cooper Campus (K5-12th) or Camelot Campus at Franklin Heights Church (K3-4th). Many families are impressed by the educational environment of our classrooms and the sense of family that can only be experienced first hand. Also during your campus visit, you'll have the opportunity to talk to students and teachers across all grade levels for a full picture of our program and the development of our students. Call our office at 540-483-5855 to schedule a personal campus tour or click here to view available dates/times.
Step 3: Submit Application
When you have determined that CHA would be a good fit for your family, you are ready to apply. Please submit applications to our Admissions Department along with the $50 application fee.
WAIT POOLS– We have established classroom capacities for every grade in our school. Once a grade level reaches a capacity, a wait pool is created to offer qualified students an opportunity to remain in consideration for enrollment.
If a spot becomes available, we will contact you to begin processing your application (including admissions testing), collecting documentation, family interview, etc.
Step 4: Apply for Financial Assistance (optional)
We believe that if God has called you to send your child to our school, finances should not stand in the way of a quality Christian education. Visit the Tuition Assistance page for information and to apply for financial assistance through FACTS, our third party aid assessment company. FACTS charges a $35 fee to process your request.
Step 5: Placement Testing
Once we receive your application and student records, placement testing will be scheduled according to grade level (see below).
K3 & K4: Testing required to determine readiness.
K5 - 12th: Depending on your child's academic records and previous testing, your child may be asked to take a placement test to accurately determine their placement within our program. Placement tests are given on a weekly basis and results are shared within a week of testing.
CHA is able to honor certain levels of student accommodations given in 504 Plans or IEP's based on available resources, equipment, and trained personnel.
Step 6: Head of School Interview
Once testing is complete and has been reviewed, an interview will be scheduled with the Head of School, which must include the applicant and at least one parent or guardian. Prior to the interview, all sections of the application must be completed, the application signed, and application fee paid.
Step 7: Acceptance
Upon acceptance, an email with the enrollment packet will be sent. You may finalize the acceptance by submitting the enrollment packet, $150 enrollment fee and selecting a method/schedule for tuition payments for the upcoming year.
New students are accepted on a trial basis for a minimum of one grading period. Evaluations are made during this period regarding the student's academic progress, discipline, and adjustment to CHA.
GENERAL ADMISSIONS REQUIREMENTS
All families interested in enrolling students at CHA must meet the following general admission requirements:
K4 & K5 Readiness -- Students entering our K4 and K5 programs must be 4 or 5 years old before September 30th respectively or have demonstrated program readiness and be toilet trained.
Minimum 2.0 GPA in Grades 6-12 - Students must have earned at least a 2.0 GPA or equivalent as a prerequisite for enrollment in our Secondary program, Grades 6-12.
SPECIAL NEEDS
It is our heartfelt prayer to meet the needs of every student. However, due to certain resource limitations we are not able to service all children with special needs. Admission will be based on the extent to which our resources can help your child succeed. Your communication to us about your child's needs and submission of records and testing information will help us better determine our ability to accommodate his/her challenges.
BEHAVIOR REFORM / ALTERNATIVE EDUCATION
While the core of our mission is training students, CHA does not serve as a reform school or alternative education institution. We operate with a desire to introduce students to Jesus Christ and disciple them in the truth of His word and believe the relationship between student, parent, church, and school to be one of cooperative responsibility -- a partnership. As such, CHA honors the responsibility to maintain a balance of influence among the student body and overall school community. In order to maintain that balance and respect the desires of our current partners, students will not be admitted who:
have not left their former school in good standing
have a need for emotional or disciplinary counseling and guidance that cannot be met by Christian Heritage Academy
have a pending court action
are married or have been married
are pregnant or have a child
are engaging in a homosexual, bisexual, or transgender lifestyle
are engaging in drug and/or alcohol use
CHA reserves the right to deny admission to any individual who cannot benefit from enrollment based on disqualifying academic and social/emotional and behavioral abilities, or whose personal or family lifestyle is not in harmony with the stated philosophy and mission of Christian Heritage Academy. A student's God-given racial or ethnic heritage is never a factor in admission, the administration of educational policies, or a student's participation in school-sponsored activities. Christian Heritage Academy admits students of any race, color, national and ethnic origin to all the rights, privileges, programs, and activities accorded or made available to students.
*Applications are considered in the order in which they are completed. When space in a class is limited, priority is given to approved applicants in order of the date of receipt of application.