20-21 Back-to-School Update: Ready to Return
August 29, 2020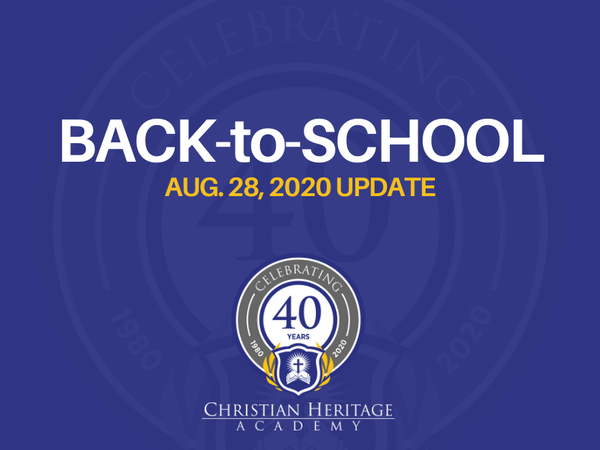 Dear Parent Partners,
Since 1980, we've been blessed to freely exercise our faith in Jesus Christ through Christian education -- a responsibility we're committed to and a calling we cherish. That's why we're so thankful to be your partners in Christian education for the upcoming 2020-2021 school year and prayerfully beyond!
Admittedly, this school year will be unlike any other, but we are excited to celebrate our 40th Anniversary with a fresh approach to education and a steadfast commitment to our mission. With the summer drawing quickly to a close, here are several important highlights and announcements you need to know as we approach the first day of school on Wednesday, September 9th.
New Knight Wear Store - We've launched a brand new online Knight Wear apparel store (open 24/7 at chaknights.org) and stocked it with fresh designs that you'll want to add to your Knight Wear collection. Remember, Knight Wear can be worn to school anytime!
Dress Code Update: KNIGHT PRIDE DAYS - On Fridays, students may wear jeans (not frayed or torn, should fit casually; they should not be tight or immodest). Students not in jeans should be in regular dress code attire. Crocs will be allowed on Knight Pride Days as well. There will no longer be a $1 charge for wearing jeans on these days.
No Aftercare Program - After several months of diligent effort and prayer, we've been unable to find an adequate solution for offering an aftercare program. Thank you for your patience and understanding. Please contact our Director of Academy Relations, Mrs. Melanie Cassady (mcassady@chaknights.org) for alternative options.
Tuition Relief Plans - New tuition relief plans have been created to help families who may experience financial hardships in the form of child care expenses due to extended seasons (4+ weeks) of remote learning, or a reduction or loss of employment due to COVID-19 this year. Please contact our Director of Finance, Mrs. Cindy Spencer (cspencer@chaknights.org) for more information.
Pledge to Partner - Next week, you'll receive revised versions of our 2020-2021 Family and Athletic Handbooks to review before completing our Pledge to Partner form. We will send a link to the digital form and documents through our text notification system so you can complete the agreement at your convenience by September 4th, 2020.
In closing, I want to remind you of our Back-to-School Orientation on Thursday, September 3rd, in the Castle gymnasium. Families with students in multiple grade levels are asked to attend either session or both as necessary to meet with their children's teachers.
K4-4th Grade 6-7 PM, with K4/K5 Meet & Greet
5th-12th Grade 7:30 PM - 8:30 PM
Social distancing and screening protocols will be in place for the evening. Face coverings will be optional.
We are requesting your attendance that evening so that your family can receive important information for the upcoming school year including detailed instructions on student drop-off/pick-up and lunch procedures. Additionally, we'll be providing a few helpful resources for navigating our COVID-19 Health & Mitigation Plan on a daily basis. It's important that we begin our #UKNIGHTED effort to adhere to our new protocols and procedures from day one.
If you have any questions related to the beginning of school, please contact our main office at 540-483-5855 at your convenience. We're always happy to assist you. I look forward to seeing you at orientation.
#UKNIGHTED,
Tony Quist
Head of School