20-21 Back-to-School Update: Health Plan & Orientation
August 14, 2020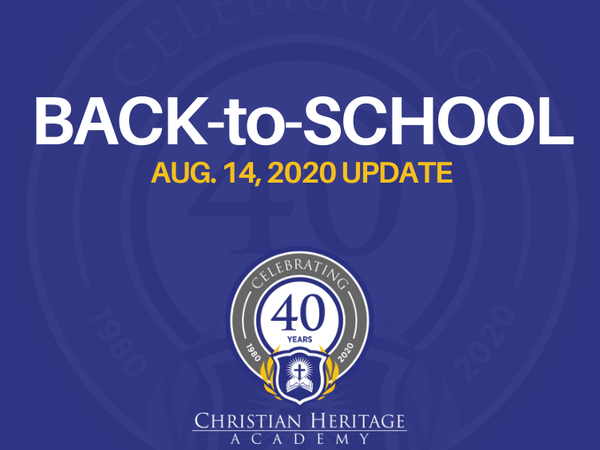 Dear CHA Community,
The Administrative Team would like to extend a sincere thank you for your trust, understanding, flexibility, feedback, and support throughout recent months. Your patience has provided us with sufficient time to pray and plan out the details for a safe return to school next month.
Our ability to safely return to school and continue providing in-person instruction throughout the year will require a #UKNIGHTED effort to adhere to our recently completed, COVID-19 Health & Mitigation Plan. This plan contains detailed information on how our day-to-day operations will be handled this year, including health & hygiene protocols, social distancing, face coverings, screening procedures, positive cases, school closures, and more. Please take the time to review this plan thoroughly and discuss it with your family over the remainder of the month. If you have any questions, please feel free to contact me at your earliest convenience to discuss.
Speaking of returning to campus, please make plans to join us on Thursday, September 3rd, for our Back-to-School Orientation in the Castle gymnasium. During the evening, you and your family will have the opportunity to meet with your child's teacher as a class to receive additional information about the upcoming year and ask any questions. For our K4/K5 students and families, the evening will include a fun meet and greet experience as well. Families with students in multiple grade levels are asked to attend either session or both as necessary to meet with their children's teachers.
K4-4th Grade 6-7 PM, with K4/K5 Meet & Greet
5th-12th Grade 7:30 PM - 8:30 PM
Social distancing and screening protocols will be in place for the evening. Face coverings will be optional.
Additionally, we ask that families refrain from bringing school supplies during the orientation and instead plan to bring them to school during the designated drop-off time on Tuesday, September 8th, from 9 AM-3:30 PM.
In closing, I encourage you to take this unique opportunity to pray with your children and families in preparation for the upcoming year. God would be so glorified in delivering a peace that transcends all understanding to us as we reflect on His sovereignty. He is sovereign over all things and is more than able to take care of all that concerns us. Isaiah 41:13-14 says, "For I am the Lord, your God, who takes hold of your right hand and says to you, Do not fear; I will help you. Do not be afraid, for I myself will help you." We are praising the Lord for the promise that He, Himself, will sustain us in the coming days.
Please look for additional information in next week's update.
#UKNIGHTED,
Tony Quist
Head of School